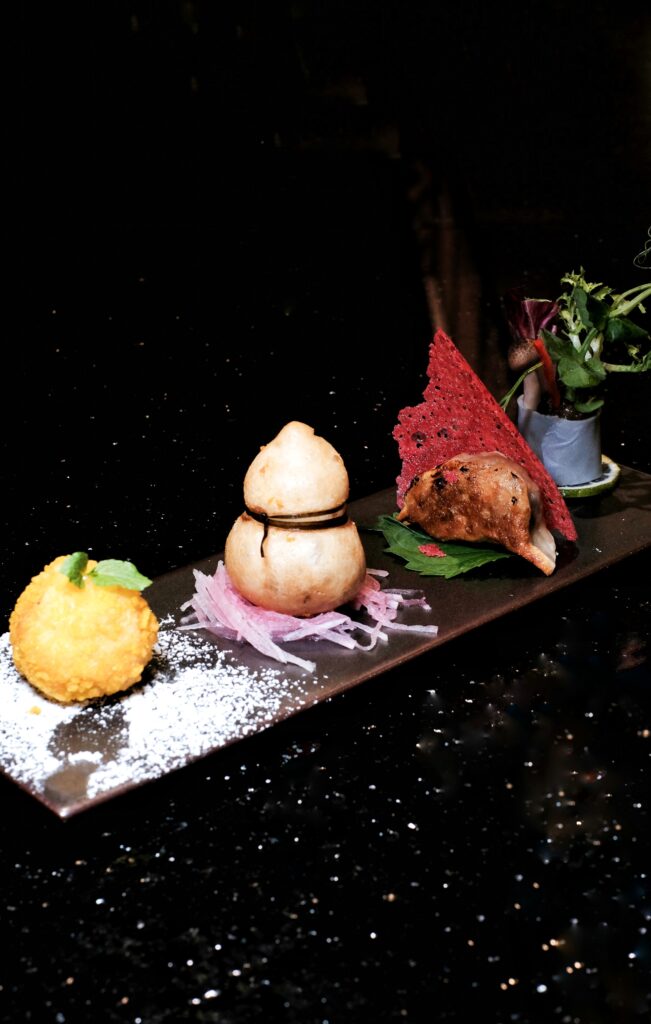 Ya Ge Singapore in Orchid Hotel has launched the Exquisite Weekend Dim Sum Brunch which diners can embark on a gastronomic journey with their premium artisanal dim sum and delicacies, alongside unlimited servings of signature dishes.

Diners start with 1 serving of the below Artisan Dim Sum.

翅骨汤金钱翅石榴饺
Double-boiled Shark's Fin Pomegranate Dumpling in Shark's Bone Cartilage Broth

鲍汁鲍鱼烧卖
Siew Mai with Abalone in Abalone Sauce

明太子玉带饺
Fresh Scallop Dumpling torched with Mentaiko Mayo

龙虾糯米饺
Steamed Glutinous Rice Dumpling with Lobster topped with luscious seafood sauce and bonito flakes

黑蒜茶树菇田园卷
Garden Greens Roll with Black Garlic and Tea Tree Mushroom

冰花黑豚肉京葱锅贴
Pan-fried Snowflakes Kurobuta Pork with Japanese Leek Gyoza

像生葫芦海参角
Deep-fried Gourd-shaped Sea Cucumber and King Oyster Mushroom Puff

爆漿芒果流心虾球
Lava Mango Shrimp Ball

Noodles / Rice
大虾脆生面
Crispy Noodles with King Prawn in Superior Broth

极品肉酱伴日本珍珠米饭
Braised Minced Meat in House's Special X.O Sauce with Japanese Pearl Rice

Dessert
蓝莓雪媚娘
Chilled Blueberry Yogurt Snow Ball Mochi

养生红枣糕
Steamed Red Dates Cake

This is followed by unlimited servings of Steamed Dim Sum , Fried Dim Sum
Main Dishes as well as Desserts.

📣 Call 6818 6831 , WhatsApp 8031 6831 or email [email protected] to reserve.

🏢 1 Tras Link Level 3 Orchid Hotel Singapore 078867

💲Cost:
Every Sat, Sun & Public Holidays From 11.30am to 2.30pm (2 Seatings)
First Seating:
11.30am to 1.30pm (Last Order at 1pm)
Second Seating:
12.30pm to 2.30pm (Last Order at 2pm)

$48.00++ per Child
(4 to 12 years old)

$68.00++ per Adult
(minimum 2 adults)

Add on $35.00++ per Adult for FREE FLOW of Le Contesse Prosecco
Spumante DOC Treviso Brut