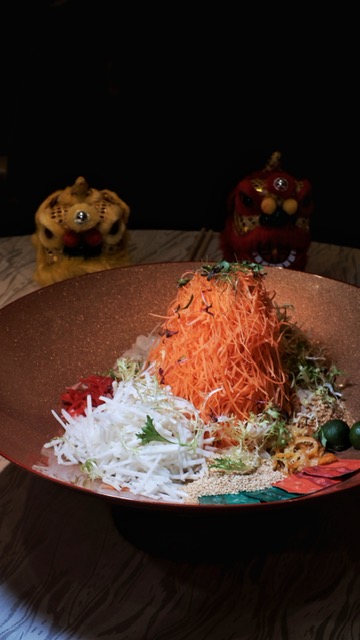 Xin Cuisine 新故乡 at Holiday Inn Singapore Atrium ushers in a prosperous new year with lavish set menus and perennial favourites for takeaways.
The star of their Chinese New Year Takeaways is the Japanese Unagi Yu Sheng with Roselle Sauce 鳗鱼洛神花捞起. Starring mouth-watering and nutritious grilled Japanese Unagi slices that is sweet-savoury, it's superbly paired with Chef's concoction of Roselle sauce to balance the toss with sweetness and a hint of fresh flowers. It is available in small and large portion, for dining in and takeaway. 4 other Yu Sheng selections are available; from the best-selling Xin's Signature Salmon Yu Sheng to Vegetarian Abalone Yu Sheng to Sliced 2-head or Baby Abalone Yu Sheng.
Other dishes being featured here are the
鹿茸菇炖响螺
Double-boiled Sea Whelk Soup with Dried Velvet Mushrooms from Xin's Seasonal A La Carte Menu.
上汤焗龙虾
Baked Lobster in Superior Stock from CNY Prosperous Celebration Set Menu
宫廷八宝鸭
Eight Treasure Duck from CNY Takeaway Menu
鹅肝片皮烧鸡
Sliced Foie Gras with Roasted Chicken & Mango Sauce from CNY Prosperous Celebration Set Menu
大澳焖米粉
Braised Rice Vermicelli in Hong Kong Style from Xin's Seasonal A La Carte Menu
酒酿煎堆仔
Deep-fried Sesame Ball with Red Bean and Chocolate Liqueur Filling from Xin's A La Carte Menu
金桔雪耳纯桃胶
Chilled White Fungus with Kumquat and Peach Resin from Xin's Seasonal A La Carte Menu
Call 3138 2531 or email [email protected] for reservations
 317 Outram Road Singapore 169075
Opening Hours:
Monday, Tuesday: Closed
Wednesday to Sunday: 11.30am to 3.00pm, 5.30pm to 9.30pm