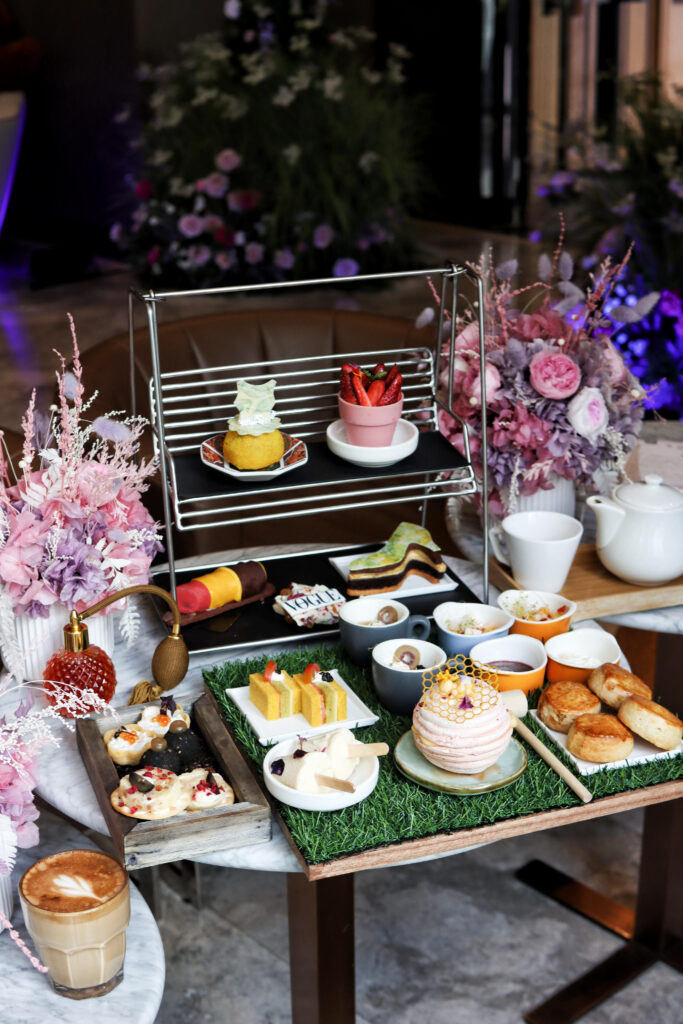 Sofitel Singapore City Centre is presenting Les Jardin du Sofitel in celebration of the global Vogue x Sofitel collaboration from now to 9 April 2023.
Taking inspiration from haute couture and spring fashion trends, the bar 1864 will be transformed into a botanical wonderland brimming with roses, eustomas, peonies, hydrangeas, and hanging wisterias that are reminiscent of a Parisian floral café. The elaborate set-up is crafted by the master artisans at The Floral Atelier , a luxury floral design studio whose roster of clients include Louis Vuitton, Dior, Saint Laurent, Cartier, Valentino, Tiffany & Co., and more.
Available from 2pm to 5pm daily, indulge in the botanical Afternoon Tea, one of the offerings on the menu alongside Savouries, Sweets, Cocktails and Mocktails. It comes with a choice of barista-style coffee or TWG tea of more than 20 premium blends including floral infusions such as Amour de Thé and Sakura! Sakura!
The Afternoon Tea consists of
Light Trufle Duck Rillettes Croquette with Apple Lavender
Cod Fish Brandade in Sakura Shell and Ikura Petit Smoked Salmon Sandwich with Caviar
Sliced Squid Salad with Pickled Chavote and Tomato Muscat Foam
Truffle Mixed Nuts and Brie Cheese Infused with Garnacha Syrah
Creamy Crab Meat with Lemon Chamomile
Pavlova with Exotic Fruits
Vanilla Ice Cream Bar
Saint Honoré Praline
Berries Chocolate Pot
Exotic Caramel Entremet
64% Chocolate Manjari Mousse
Blossom White Chocolate Bar
Strawberry Raisin Scone
Plain Scone
 Book at https://www.sofitel-singapore citycentre.com/gastronomy/gastronomy-1864/
 9 Wallich Street Singapore 078885
Cost: $150 for 2 pax