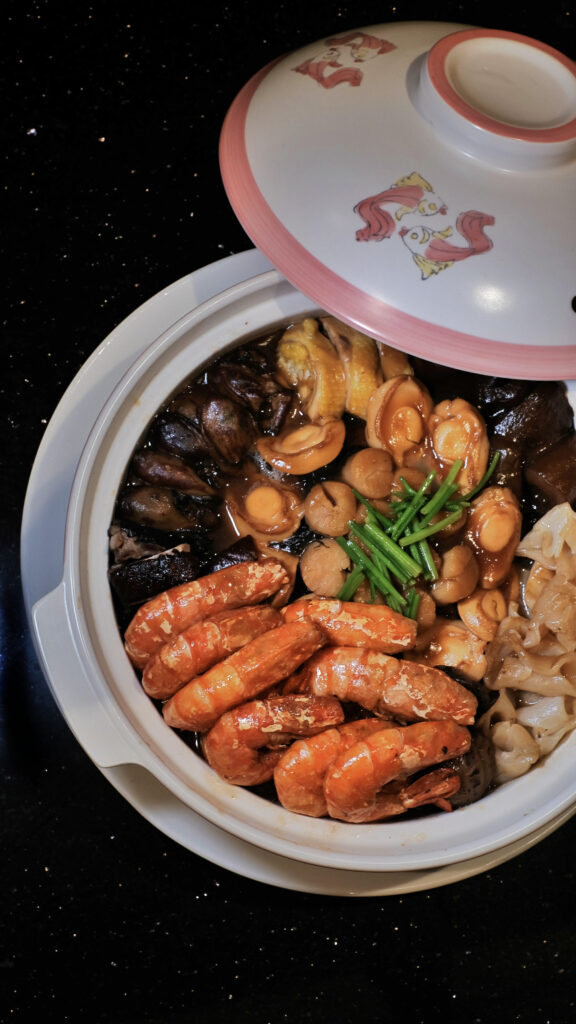 Rediscover the spirit of spring festivities as you gather family and friends to savour Ya Ge 雅阁 exquisite seasonal menus and gourmet takeaways in the new year. The culinary team presents a treasure of trove of refined contemporary Chinese dishes that are inspired by the cultural heritage of Lunar New Year traditions and are a nod to the celebratory fanfare of the season.
Featured here are their
金箔鲜花水果三文鱼撈生拼兔宝宝芒果冻 Salmon Yu Sheng with Flora and Seasonal Fruits accompanied with Mango Flavored Bunny Pudding
香煎瑶柱腊味萝卜糕
Pan-fried Radish Cake with Conpoy and Chinese Sausage
雅阁如意盆菜
Ya Ge Fortune Pot (Pen Cai)
杨挑麦冬炖西施骨汤
Double-boiled Pork Ribs Soup with Starfruit & Winter Wheat
飘香荷叶鸡
Steamed Fragrant Lotus Leaves Chicken with Pork Belly, Assorted Mushroom, Chestnut, Red Dates and Wolfberries
鲍汁荷叶饭
Steamed Lotus Leaves Rice with Smoked Duck and Abalone Sauce
洛神花芦荟冻 拼 椰丝年糕
Chilled Roselle Jelly with Aloe Vera accompanied by Nian Gao with Shredded Coconut
 Call, 6818 6831 , Whatsapp +65 8031 6831 or email [email protected] to enquire. Pre-order by 15 Jan 2023 to enjoy 10% off Takeaways, Goodies and Set Menus.
 1 Tras Link Orchid Hotel Level 3 Singapore 238867
Opening Hours:
Daily: 11.30am to 2.30pm, 5.30pm to 10.00pm