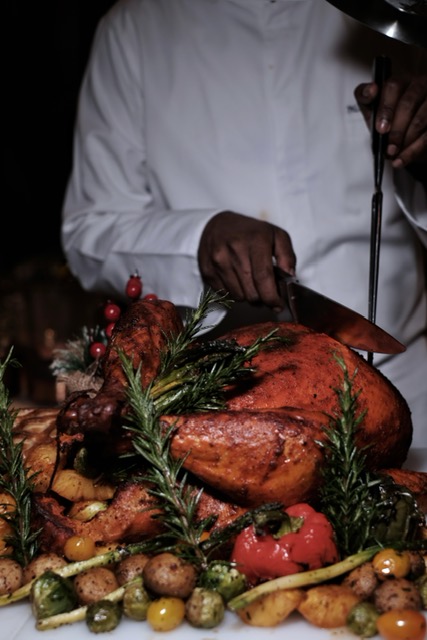 Explore the festive flavors at Orchard Cafe in Orchard Hotel Singapore with Christmas highlights including Roasted Turkey with Truffle Butter, Slow Roasted Australian Grass Fed Angus Beef Striploin, Maple Glazed Ham, Foie Gras Slider, Beetroot Cured Salmon and more.
Enjoy Seafood Extravaganza on Ice including Fresh Canadian Oyster, Boston Lobster and Cut Sashimi.  The live station will feature Chef's Seared Foie Gras in Rhubarb Chutney. Other all-time favorites such as Singapore Chilli Crab, Charcoal Grilled Tiger Prawn, Barramundi, Squid, Satay, Braised Pork Trotter and Lobster Laksa will also be available at the Festive Buffet.
Moving from savory to sweet, indulge in Christmas special dessert select premium Yuzu Log Cake, classic Chocolate Log Cake, traditional Fruit Minced Pie, Mixed Fruit Cake, Marzipan Stollen and other favourites.
Shop at the life-size Elf Village Goodie House for takeaway treats including the Christmas Hampers, gourmet home treats of succulent roasts, handcrafted log cakes fruitcakes, as well as a medley of confectioneries.
Call 6739 6565 or email [email protected] to enquire. 15% off for reservations and payments made from 12 Dec 2022 onwards.
442 Orchard Road Singapore 238879
Mondays – Thursdays (exclude Eve of and PHs & 26 Dec)
Lunch (12:00pm to 2:30pm) $72.00
Dinner (6:00pm to 10:00pm) $92.00
Fridays – Sundays (exclude Eve of and PHs & 26 Dec)
Lunch (12:00pm to 2:30pm) $82.00
Dinner (6:00pm to 10:00pm) $102.00
24 December 2022
Lunch (12:00pm to 2:30pm) $98.00
Dinner (5:30pm to 7:30pm , 8:00pm to 10:00pm) $118.00
25 December 2022
Lunch (11.30am to 1.00pm , 1.30pm to 3.00pm) $118.00
Dinner (5.30pm to 7.30pm, 8.00pm to 10.00pm) $118.00
26 December 2022
Lunch (12.00pm to 2.30pm) $98.00
Dinner (6.00pm to 10.00pm) $98.00
31 December 2022
Lunch (12.00pm to 2.30pm) $108.00
Dinner (5.30pm to 7.30pm , 8.00pm to 10.00pm) $138.00