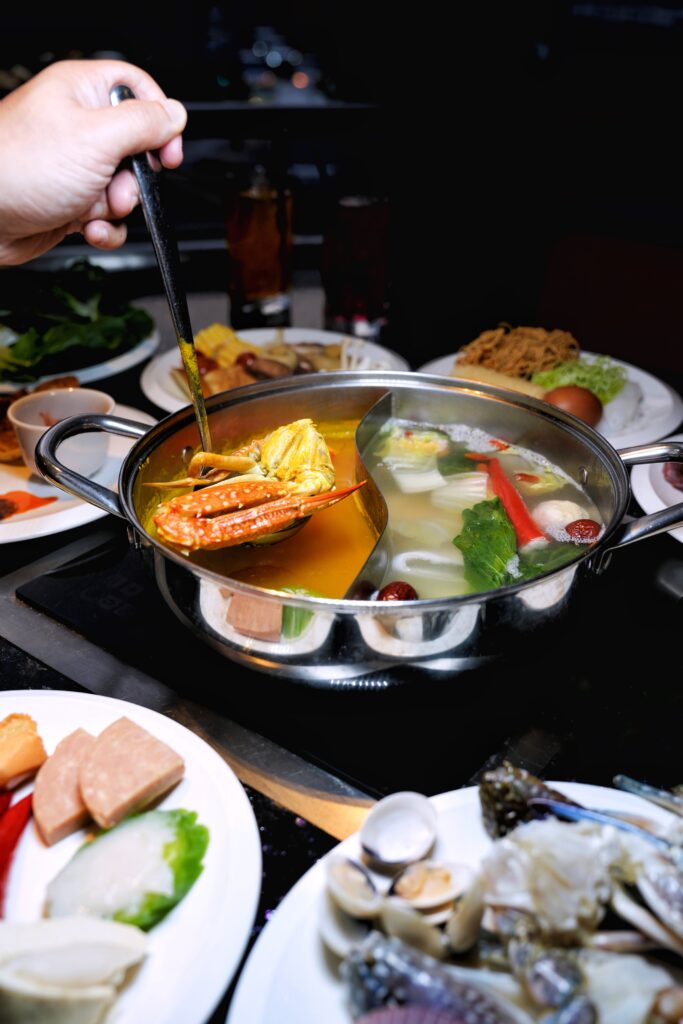 Enjoy Dine 4 Pay 3 with min. 3 paying adults at The Buffet Restaurant in M Hotel Singapore which has launched five nutrient-dense hotpot broths available from now to 15 November. Nourishing and MSG-free, the new line-up of healthy hotpot broths is a fantastic option for those who are looking for a palatable and health appealing hotpot session.

Savor the essence of health with the soul-warming and refreshing Coconut Chicken broth. Glowing with enthusiasm is the Golden Pumpkin broth packed with vitamins and imbued with the natural sweetness of pumpkin, carrots and other vegetables.

Not to be missed is the Umami Soymilk broth; silky soymilk with kombu that melds perfectly with an umami aftertaste. Popular amongst ladies is the highly raved Superior Collagen broth. The flavourful gelatinous broth made with high quality chicken-bone is simmered for hours, gradually releasing a rich, silky and luscious collagen goodness packed with anti-aging properties and vitamins. For those who prefer something with a spicy kick, there is the all-time-favourite Tom Yum broth that surprisingly has an abundant of benefits from the variety of healing herbs and ingredients in it.

All hotpot aficionados can get ready to dive into the freshest seafood spread of succulent Flower Crabs, Red Leg Prawns, Pink Scallops, as well as premium selections of meat alongside your choice of broths. There is also a 'live' Shawarma station dishing out grilled chicken with pita and a line-up of Chef's healthy renditions of Cauliflower Fried Rice, Butter Chicken, slow- cooked Lamb stew and many more!

If you have a sweet tooth, indulge in delicious cakes, bakes and the Signature Durian King Cookie Crumble Cream Puff.

📣 Call 6500 6113, email [email protected] or book online at https://www.millenniumhotels.com/en/singapore/m-hotel-singapore/the-buffet-restaurant/ to reserve

🏢 81 Anson Road Singapore 079908

🕚 Opening Hours: 6.00pm to 10.00pm
💲Cost:
Sunday to Thursday $58++
Friday & Saturday $68++