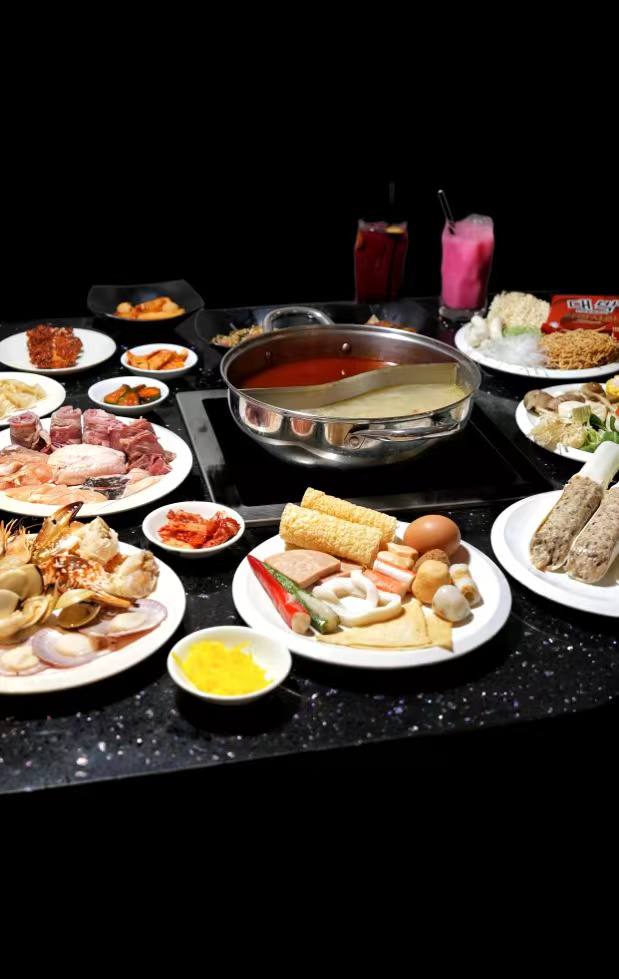 Dine 4 Pay 3 with minimum 3 paying adults and get K-razy with M Hotel Singapore as they offer K-Pot at The Buffet , a Halal Chinese-style steamboat buffet restaurant in city centre.

First choose the speciality Msg free broths from Supreme Collagen Broth , Singapore Laksa, Spicy Tom Yum, Superior Chicken and the highlight Army Stew (Budae Jjigae). Then indulge in the free flow meat such as Beef short plate slice and Sliced Lamb, Catch of the Day Fish Fillet, Flower Crab, Pink Scallop, Red Leg Prawn, Pacific White Clam, Razor Clam, Squid Ring, Handcrafted Paste Chicken Mushroom Paste or Prawn Tobiko Paste, Yong Tau Foo, Assorted Balls, Vegetables, Mushrooms ending with staples such as Jasmine Rice, Crispy Noodle (Yee Mee), Spinach Noodle, Egg Instant Noodle and Korean Glass Noodle.

While waiting for the broth to be ready, there are cooked dishes such as Korean Fried Chicken Tossed in Spicy Sauce, Braised Korean Beef, Japchae and Spicy Tteokbokki to indulge in.

Cakes and pastries such as Signature Durian King Cookie Crumble and Cream Puff are placed in a bird cage dessert tier and presented to the table. The Live Bingsu Station and complimentary Barley Tea complete the K-pot experience. Diners can top up $6.00 for free flow quenchers such as Sirap Limau, Sirap Bandung, Calamansi, Sour Plum and soft drinks.

📣 Call 6500 6112 to reserve

🏢 81 Anson Road Singapore 079908

🕚 Opening Hours: 6.00pm to 10.00pm
💲Cost:
From now to 31 July
Sunday to Thursday $58++
Friday & Saturday $68++