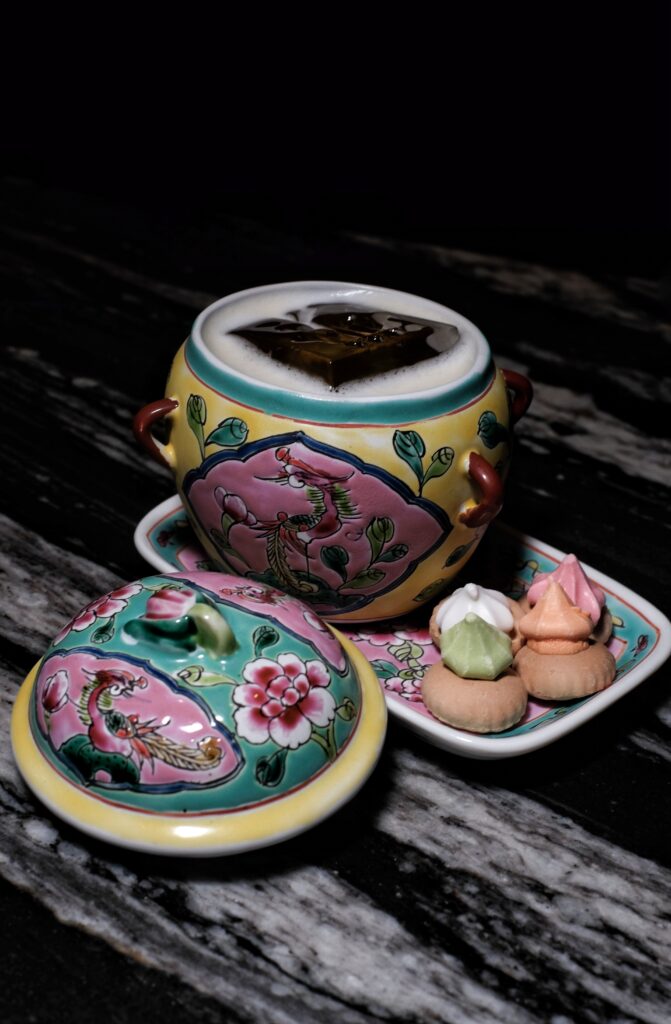 1864 at Sofitel Singapore City Centre is debuting a new craft cocktail menu that serves to bring guests on an immersive voyage along the maritime Silk Road. One can sip on a collection of 15 cocktails inspired by five key ports including Italy, Kenya, India, Singapore and China.
.
I have the opportunity to savor some of the cocktails and my favorite is the Ondeh Ondeh which is served in a Peranakan porcelain ware with colourful iced gem biscuits. This brown sugar infused vodka mixture also features Malibu, gula melaka, pandan syrup and coconut juice. The Inoculation is an eye-catching, decadent creation playfully presented in a martini glass with a scoop of sorbet, ice cream cone and syringe. Featuring Bulleit Rye Bourbon, Mancino Rosso, cherry syrup and chocolate bitters, the refreshing cocktail is a treat made for the tropical heat.
We also had the 鸦片 (Yā Piàn) which echos the story of one of the oldest recreational drugs in China – Opium. Using Botanist gin as the base, the cocktail is topped with Mancino Rosso, Fernet- Branca, and finished with orange bitters. Caffè Noir, inspired by Kenya, is a rich, velvety concoction made with Mezcal Tequila, Kahlúa, Amarula, agave sugar and espresso. Taking inspiration from Indian heritage, Tipsy Curry, is a refreshing cocktail made with Bacardi Carta Blanca, Malibu, lime juice, pineapple juice and a dash of curry powder.
For reservations or enquiries, please visit
https://bit.ly/1864-maritime-cocktails, call +65 6428 5000 or email [email protected]
9 Wallich Street Singapore 078885
Operating Hours: Daily: 8.30am to 10.30pm
Cost: $25.00