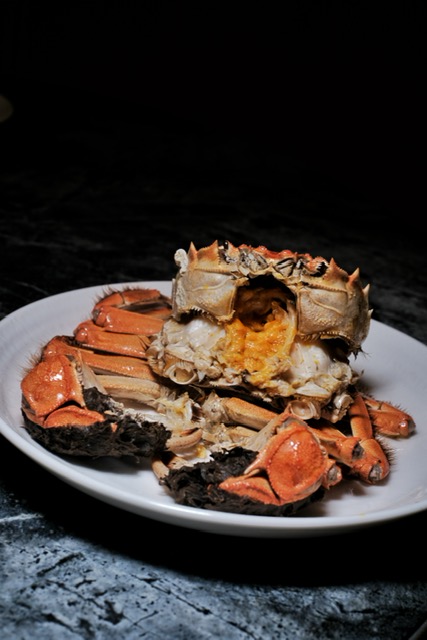 ts time again for the hairy crab season as Shang Social 香聚 by Shangri-La Singapore located at Jewel Changi Airport has launched the Jiang Nan Hairy Crab Set Menu 江南蟹宴 which is available from now till 23 November.
The 4 course menu is at $98++ per pax and starts with the appetiser consisting of Braised Shanghai Gluten, Crispy Eel, Drunken Chicken and Sheet Jelly with Crabmeat and Roe 四喜烤麸,镇江脆鳝, 花雕醉鸡, 蟹粉粉皮. This is followed by the highlight of the menu, 2 pieces of Jiang Nan Hairy Crab 江南大闸蟹(两只) and Minced Vegetable Pot with Superior Fish Broth and Long Kou Glass Noodle 龙口粉丝青菜砵. The meal ends off with the Homemade Ginger Tea with Peach Glum and Glutinous Rice Black Sesame Ball 姜茶桃胶汤圆.
Shang Social has also recently launched a refreshed menu as the contemporary Chinese restaurant welcomed a new team of chefs. Newly minted Chinese Executive Chef Loh Chen Hin is bringing with him more than 25 years of culinary experience in Japan, Indonesia and Malaysia and some of his new dishes include the House Smoked Chicken 茗茶醺鸡, which is an elevated version of the traditional Soy Sauce Chicken. The Tea Smoked Chicken is smoked over yellow rock sugar and jasmine tea leaves to give it a lingering fragrance and add a tinge of sweetness to the succulent meat.
Specializing in dim sum, Chef Hwang's creations include the Steamed Trio Seafood Dumpling 香聚三色饺 inspired by the umami flavours in seafood. Packed with minced seafood, the dumplings are topped with abalone, smoked salmon and scallop. Another crowd favourite is the Pan-fried Shanghai Pork Bun 生煎包, Shang Social version of the Shanghai Pork Bun is a tasty bundle of fresh and juicy minced pork wrapped in a thin dough and pan-fried for a golden crispy base.
  78 Airport Boulevard Jewel Changi Airport 01-219 to 222 Singapore 819666
Operating Hours:
Daily: 11.30am to 3.00pm, 5.00pm to 9.00pm